When To Replace Your Court Shoes
When To Replace Your Court Shoes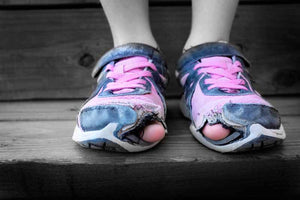 How Often Should A Player Change Their Pickleball Shoes?
Are you wondering if you finally need to replace that dependable pair of court shoes you've been wearing on the pickleball courts for months because they're starting to show wear? Then read on to find out how long pickleball shoes last and how often players should change them.
Pickleball/tennis shoes, like many other products, have an expiration date. Knowing when your shoes need to be changed or when they are completely worn out is important.
Playing with worn-out shoes can compromise your game and movement. On hard courts especially, comfort and durability are essentials of shoes that help you to glide on the court with both ease and confidence.
Worn out shoes will leave you with increased soreness in your ankles, lower back, or even knees; and they could even lead to injury. Therefore, knowing when to change your court shoes is vitally important. Also knowing the lifespan to expect out of a good pair of court shoes is key as well. 
How Can I Tell If My Pickleball Shoes Are Worn Out?
Worn out soles are the most obvious areas which tell you it's time to change out your court shoes. When your outer sole, which is usually created from a hard rubber, has diminished into the midsole, then it's time to replace your shoe.
Additionally, when the midsole's shock-absorbing ability has been reduced, or when it has been compressed too much, changing shoes should then become a priority.
Another way of checking whether your shoes are worn out is by placing them on a flat surface and seeing if they sit uneven on that surface. Completely worn out shoes will also have very obvious signs of creasing on them.
You can also tell by checking the fabric lining of your shoes. The more that a player wears out their shoe, the more they will erode this fabric lining out. Sometime even a toe or two will be trying to break free!
How Long Should I Expect My Pickleball Shoes To Last?
Answering the question of how long court shoes last is a tricky one simply because it depends on a wide range of factors. Typically, most shoes are designed to last between 6-8 months, but this also depends on a wide range of factors, some of which are listed below:
Type and quality of court shoe-

 

like everything, court shoes come in all types of quality from the more entry level "cheaper" court shoes made of more basic materials and lighter grade rubber soles to the higher end shoes constructed from most durable materials and toughest rubbers. You should expect a higher end shoe to last longer and some- like select models from K-Swiss and HEAD- even come with 6 month outsole warranties. 
Type of court being played on- Hard courts are the most notorious when it comes to consuming outsoles (especially when playing in HOT weather), which is why you must use shoes that can withstand the surface's harsh demands. Always ensure you are playing with an all-court or outdoor court shoe when playing on outdoor courts and not a shoe with a gum rubber sole designed for indoor play which will get completely destroyed on outside courts. 
Style of play- recreational or competitive?-

 

Aggressive competitive or tournament players are more likely to wear shoes out quicker than moderate, recreational players. Also, heavier players will wear out their shoes quicker than lighter players simply because the extra weight exerts more pressure on the shoes.
Frequency and type of usage- If you use your shoes daily or for longer periods of play at a time, they will wear out much quicker when compared to someone who only plays 1-2 times a week.  Using your court shoes for non-court related activities like hiking, biking, walking etc. will not only

 

greatly reduce your shoe lifespan but also void any outsole warranty your shoe may come with. This is simply because the shoes are manufactured for a sole purpose, and deviating from that purpose will harm them as they are not built to handle such tasks. Keep your court shoes for court use only- this even means going to and from the courts in street

 

shoes.
How To Increase The Lifespan Of Your Pickleball Shoes
Rotating your footwear, keeping your footwear clean, only using your court shoes for court related activities and allowing your shoes to fully dry out between wearings will increase the lifespan of your shoes. 
We also recommend players invest in two pair of good quality court shoes and rotating them between play. This will double the lifespan of each pair- giving you a longer span between shoe purchases!
Opt for more premium shoe options – premium doesn't necessarily relate to the shoe's price, but rather the quality of the shoe. More premium options are usually built to last longer and will serve you better in the long run.
Clean your shoes regularly – If possible, clean your shoes after each session to prevent dirt from accumulating on the shoes.
Avoid putting your shoes in the dryer or leaving them out in direct sunlight for extended periods of time. Dry your shoes using natural methods is always the preferred method. After washing, pat dry with a towel and put either a newspaper or paper towel inside the shoe's inner sole. However, if you trust that your shoes truly are heat-resistant, then you can put them in the dryer but for a very limited time. Experts suggest no more than five minutes.
Our Final Thoughts......
As stated in the post, knowing how often players should change their court shoes will differ wildly based on several variables.
Aggressive players who play regularly will find themselves changing their shoes even every 3-4 months, while less-aggressive players will definitely keep their shoes for longer.
If you're an aggressive player who plays on hard courts, you can always take advantage of shoes that come with outsole guarantees which are offered on select models. Visit us online or in-store for our current selection of top quality court shoes from companies such as K-Swiss, HEAD, Babolat, Acacia and more!